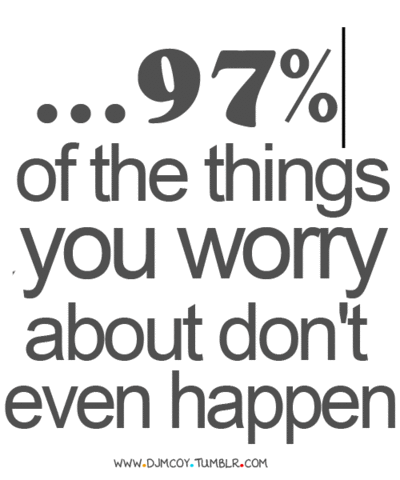 Remember this. I need to remember this. Worry is on the adversary's side of the line not the Savior's. So for today, I choose not to worry. I choose faith. Because faith in him is what will produce amazing results–NOT worry.
Why is it we struggle so often with worry? There's no need. Like my Mom always used to say to say to me growing up: "Worry is like a rocking chair: it uses up a lot of energy, but gets you nowhere." (or something like that).
The Savior has overcome the world. And He lives to help us through every trial we face. Why not choose to push aside the worry trap we so easily fall into, and choose instead the freedom of faith in Jesus Christ? He will help us. And everything will work out for our ultimate good. Of this I know.
Your Happy Challenge for today is to try it and see for yourself. Every single time a worry crosses your mind today, say, "Fear/worry, you do not serve me. I am filled with too much faith and light for you to bother me. You go have a nice day!" And then replace with a scripture or quote that comforts your soul. One of my favorites is: "I can do all things through Christ which strengtheneth me." (Philippians 4:13)
What scriptures or quotes do you use? What is your experience of pushing out worry and filling your mind with faith?